Susanna Haas Lyons
Susanna Haas Lyons is a public engagement specialist who develops strategy and provides training for better conversations between the public and decision makers. Bridging online and face-to-face methods, Susanna has worked on some of North America's largest and most complex citizen engagement projects. She is a senior network associate with AmericaSpeaks, a global leader in large-scale public participation on the policy issues that matter most to the public. Previously, Susanna was project coordinator with the internally recognized British Columbia Citizens' Assembly on Electoral Reform, which was shortisted for the prestigious Mohn Prize. Susanna is currently researching collaborative policy development, with a focus in digital engagement practices, at the University of British Columbia's Institute for Resources, the Environment and Sustainability. She is an advisor to the Alberta Climate Dialogue project, board member of the Canadian Community for Dialogue and Deliberation, and Pacific Institute for Climate Solutions (PICS) fellow.

By Susanna Haas Lyons on September 16, 2011
Participants of Exploring Vancouver's Transportation Future have been heard by the City of Vancouver! Transportation 2040 staff have written a response to each of the nineteen recommendations put forward by participants of the Facebook event hosted by Greenest City Conversations, in partnership with the City of Vancouver. Read the Transportation Department's response to participant recommendations […]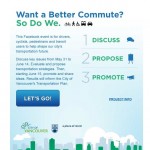 By Susanna Haas Lyons on May 23, 2011
Vancouver's lifestyle and entertainment weekly newspaper, the Georgia Straight, published an online article about Greenest City Conversation's newest research project – a Facebook based public conversation about the City of Vancouver's Transportation Plan. Stephen Hui, web editor and technology editor at the Georgia Straight, interviewed researcher Susanna Haas Lyons about the project. 
By Susanna Haas Lyons on May 18, 2011
Exploring Vancouver's Transportation Future has just launched, inviting Vancouver residents and commuters to contribute their ideas in a Facebook conversation that will help shape the City of Vancouver's Transportation Plan. Apps.Facebook.com/VanTransportFuture We all get around the city. What will be the easiest, safest, most affordable ways to travel? This converation will help set direction for […]